It's that time again, time to get together with family and friends to root on your favorite team. The 51st Super Bowl is less than two weeks away and if you need some snack-spiration you've come to the right place! We have some great team themed recipes to spice up your Super Bowl party and delight your Patriots fans and Falcons fans.
Super Bowl parties are notorious for the amount of fun snack food and football themed appetizers. We have just a couple of our favorite h'ors d'oeurves, desserts, and drinks that we're sure your guests will adore.
Dips are a crowd favorite, but it seems that every tailgate or Super Bowl party has the same boring dips, here's an idea if you want to "beef" up a traditional queso.
Here's what you'll need:
8oz of ground beef
2 tbsp of fresh Cilantro
1/4 cup of canned green chilies
1/2 cup of canned tomatoes
1/4 cup of salsa verde
1/2 tsp of chili powder
1 tsp Emerils essence creole seasoning
1 tsp kosher salt and freshly ground black pepper
1 tbsp of olive oil
1/2 tsp of cumin
1/2 cup of Monterey jack cheese
8oz of Velveeta
Cook the beef first, set aside, melt the cheese, and add everything together and your queso will be done in 15 minutes! Your guests won't be able to resist this decadent dip that you can scoop with any chip.
If your guests are looking for something a bit lighter try making lobster rolls. This is a great alternative to the usual hamburgers and hot dogs that you see at every large event. These lobster rolls are also a healthy option when you're surrounded by the usual unhealthy Super Bowl food. Here's what you'll need:
Lobster meat
Greek yogurt
Mayonnaise
Finely chopped celery
Sea salt
Boston lettuce
Tomatoes
Uncured bacon
Depending on the size of your party you may need more or less of the yogurt/ mayonnaise base. Use half Greek yogurt and half mayonnaise. Chop the lobster meat into small easy to eat pieces along with the celery with a pinch of sea salt. You can either wrap this delectable lobster roll with lettuce or warm Texas toast, tomato and bacon are optional. Garnish with lemon or garlic salt. This is a dish New England fans are sure to love!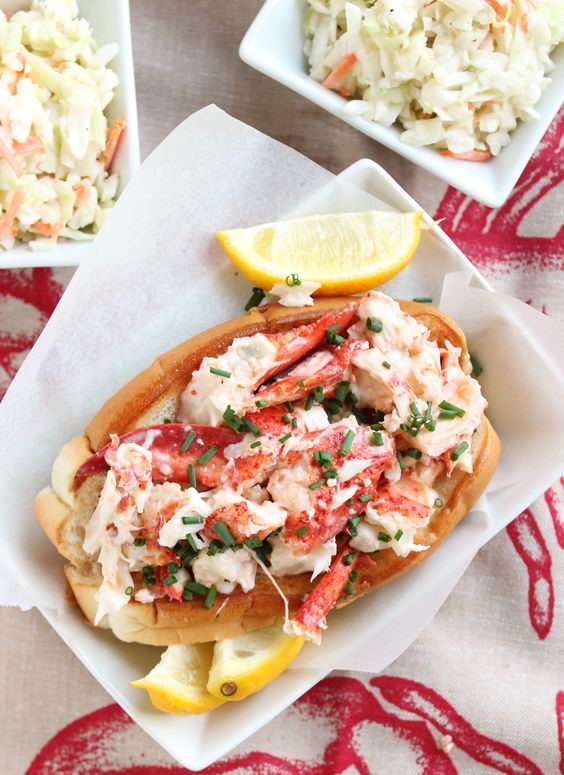 We know that preparing for any party, let alone a Super Bowl party can be stressful for the host. We have found the perfect football themed dessert that is delicious and easy to make! These Chocolate Peanut butter Footballs can be made a couple days prior to the party, which makes it an even more desirable dessert. Go ahead, do your touchdown dance. Here's what you'll need:
1/2 cup of creamy peanut butter
3 tbsp. salted butter, softened
1 cup of powdered sugar
8oz semi-sweet chocolate, chopped (or chocolate chips)
Mix peanut butter and butter into a mixing bowl, mix in powdered sugar gradually until doughy. Let the dough sit about 15 minutes to firm up. Shape the dough into a football and place on a baking sheet. Once finished place the baking sheet in the fridge and let the footballs sit for about 30 minutes or until they hold their shape. Next melt the chocolate in to a bowl, once footballs are hard enough cover completely in the melted chocolate. Place on waxed paper baking sheet and leave in the fridge for about 30 minutes or until firm. After the footballs are firm pipe laces on with white icing and leave in the fridge until game day, easy as that.
Now to really get the party started, no one can resist team themed Jell-O shots! Whether it be a Fourth of July party or a Super Bowl gathering, themed Jell-O shots are always the talk of the party. Here's what you'll need:
1/4 granulated sugar
1 cup of milk
For Patriots fans (1 3oz box Berry blue Jell-O, 1 3oz Cherry Jell-O, 4 envelopes Knox plain gelatin)
For Falcons fans (1 3oz Cherry Jell-O, 1 3oz Black Jell-O, 4 envelopes Knox plain gelatin)
3 cups of vodka
36 Plastic shot glasses
For blue (Patriots) or black (Falcons) layer:
Mix 1 cup of water with black or blue Jell-O in a medium saucepan, sit 1 minute and tem stir. Heat on medium then add 1 cup vodka, stir again. Pour blue or black mixture into about 1/3 of the shot glass then place into the fridge to cool for about 30 minutes.
For white layer (both Patriots and Falcons):
In a medium saucepan, pour two envelopes gelatin over milk a let sit for one minute. Add a pinch of sugar and let simmer. Add 1 cup vodka and stir. Let white mixture cool to room temperature then pour over blue or black layer so that half the shot glass is full. If the white layer is too hot then it may bleed into bottom layer. Leave in the refrigerator for 30 minutes.
For red layer (both Patriots and Falcons):
Mix 1 cups water with Cherry Jell-O and mix in 1 envelope of gelatin on top. Let sit for 1 minute stir everything together and heat on medium until it reaches a simmer. And one cup of vodka and stir together. Again, allow the mixture to reach room temperature before pouring into existing layers.
Each color should be covering a third of the cup so there are three even sections. Refrigerate for at least 3 hours before serving. If you're feeling so inclined you can add mini team banners into each cup for extra flair. Even if your team doesn't win the Super Bowl these Super Bowl party snacks are sure to be winners!