It's almost February, the month of love and couples and good sweets and heart shaped things and pink and red! For some, Febuary 14th is an exciting day for love and for others it's a great excuse to indulge in foil wrapped Dove chocolates and cocktails. Either way some type of food or other Valentine's Day themed things are somehow coordinated into the day.
Whether you're attending a Valentine's Day party, preparing a romantic dinner for a date or drowning in sweets and drinks here's a little LOVEly inspiration for your February 14th wherever it may be.
Brownies and cheesecake are divine sweets but mixing the two together is simply genius. All you have to do for these Raspberry Cheesecake Brownies is make the brownie layer and add the cheesecake layer on top and that's it! But if you want a little bit more detailed recipe keep scrolling.
– Here's what you'll need –
For the brownie layer:                                                                    
½ cup unsalted butter, softened
½ cup granulated sugar
½ cup brown sugar, lightly packed
2 large eggs
1 teaspoon vanilla
1 cup all-purpose flour
¼ cup unsweetened cocoa powder
¼ teaspoon salt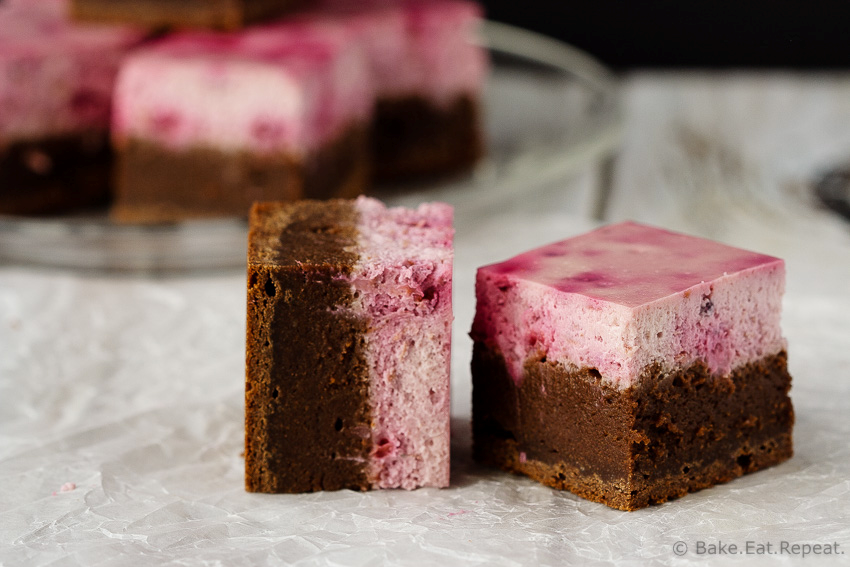 For the raspberry cheesecake layer:
8 ounces cream cheese, softened
¾ cup plain Greek yogurt
2 large eggs
¼ cup granulated sugar
2 tablespoons all-purpose flour
2 teaspoons vanilla
1 cup raspberries, lightly mashed
Cream together butter, sugar and brown sugar with electric mixer until fluffy. Add eggs and vanilla and mix again until combined. Add flour, cocoa powder and salt and mix until combined. Spread brownie batter in 8×8 inch baking pan lined with parchment paper and set aside.
Make the cheesecake layer. With electric mixer, whip the cream cheese, Greek yogurt and eggs. Add sugar, flour and vanilla and mix until
combined. Fold in the raspberries. Spread cheesecake mixture on top of the brownie batter.
Bake for 50-60 minutes at 350 degrees. Cool for an hour and chill for 2-3 hours before cutting the bars into squares.
After those amazing cheesecake brownies you'll probably need something to wash them down. Next up, raspberry pink champagne floats. This recipe only makes one so if you plan on sharing (or drinking a few yourself) you'll have to double or triple the recipe!
                                                  – Here's what you'll need –                                                  
2-3 scoops raspberry sorbet
1 cup pink champagne
Fresh raspberries or other berries for garnish
– Place scoops of sorbet in large wine glass
– Pour champagne over sorbet
– Top with berries
– Eat with a spoon or sip with a straw!
If you're planning to host a party this Valentine's Day you probably already know that balloons are a huge trend this year! See how you can amp up your simple party balloons with some themed colors.
-Here's what you'll need –
Fine glitter (red, pink, silver, gold for Valentine's Day theme)
Clear balloons
Funnel
Spoon
Balloon pump
-Stretch each balloon. Insert funnel into balloon and add glitter using a spoon. Adjust amounts to achieve desired color.
-Using pump, inflate each balloon. Knot balloon. Attach strings to them or create an arrangement on the wall!