Creative Hands Cuisine loves fashion! So much of what drives fashion trends and styling also influences food trends. So, let's talk summer fashion trends!
Don't get all judgy on us, we still love everything food but we also love summer styles and know the importance of breathable fabrics, we understand the need for sturdy flip flops that don't melt on the ground, and of course we all need something that'll catch all of those blistering sun rays to create that fabulous Arizona glow (ahhhhh) now how does that sound for a souvenir? Check out what's trending…
Make White & Lace Happen
Nordstrom's. Is. EVERYTHING. If you didn't know, you're welcome. Check out all of the latest and greatest of fashion styles at Nordstroms.com or visit one of the valley's locations (if you dare to face the heat). Here is our style pick up this beyond retailer.
Put the love in the Coconut
There are so many ways to incorporate coconut flavored anything this summer, so try this refreshing coconut peach lemonade to get the party started this summer and pair it with pizelle's for a fun summer bridal shower:
Coconut Peach Lemonade Recipe
2 heaping TBS honey(or use a mixture of 1 TBS honey and 6 drops of stevia)
2 cups of coconut water
2 ripe peaches, pits removed(plus more for optional garnish)
fresh squeezed juice of 4 large lemons
ice
lemon slices, peach and mint for garnish(if desired)
Directions: Put honey, coconut water, 2 peaches and juice of four lemons into your high speed blender, and blend until smooth. Strain(if desired) and serve over ice with a few lemon and peach slices with a sprig of fresh mint.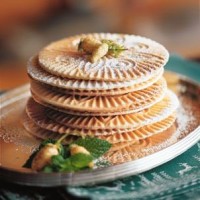 Pizzelle Cookie Recipe:
3 eggs
3/4 cup sugar
8 Tbs. (1 stick) unsalted butter, melted, plus
more for brushing
2 tsp. vanilla extract
1 tsp. finely grated lemon zest
1 3/4 cups all-purpose flour
2 tsp. baking powder
Directions: In a mixing bowl, whisk together the eggs and sugar until light yellow and thick ribbons fall from the whisk, 2 to 3 minutes. Add the 8 Tbs. melted butter, the vanilla and lemon zest and whisk until blended. Over a sheet of waxed paper, sift together the flour and baking powder. Fold the flour mixture into the egg mixture in two additions, folding each addition just until blended. Heat a pizzelle maker according to the manufacturer's instructions. Brush lightly with butter and spoon about 1 Tbs. of the batter onto the pizzelle maker. If any batter oozes out, cut it off immediately. Cook according to the manufacturer's instructions until golden brown. Transfer the pizzelle to a wire rack and let cool. Repeat with the remaining batter.
 Have you heard?
Red henna's are out and white henna tats are in. The traditional display of red hennas has become the summer trend for most family vacations and festivals but have you looked into white hennas? Not only is it different and stylish but it's also fitting for the perfect entertainment stand during a wedding reception.
Fun Fact: Henna has the ability to decrease body heat so wear all summer long to stay cool!