Did you enjoy Rochelle and Luke's story? We are so excited for them!
NOW, our next proposal story is a little unique….as it happened 26 years ago! Once we heard of Kay and Jay's engagement story, we just had to share. Their story is one that girls these days should really take to heart- if you just wait and don't rush things, your happy ending will happen! And, it may begin in a more explosive way than you think! Here is their story: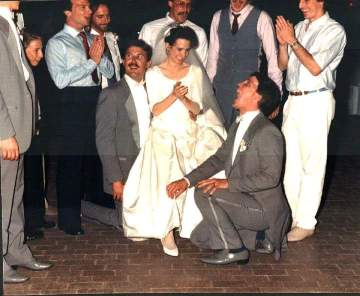 KAY- Jay and I met in college at NAU in Flagstaff. We officially met at the end of May my sophmore year in, at a President's BBQ, and then re-connected in August of 1983. At that point, however, he was determined to not be 'tied down' his last year on campus. Well, that didn't last long as we were inseperable until he left for his internships. We dated long distance while I finished school, split for a while, and reconnected in 1987 with the intention to be married. Jay had his own plan on how to propose, and I was anxiously waiting to begin planning.
JAY – I knew Kay was the one for me and wanted to make my proposal special. I think San Francisco is an incredibly romantic city and initially thought I'd do it there. I planned to ask her to accompany me to a conference in the City by the Bay. The only trouble was there wasn't a conference so I'd have to make up some details to fool her into believing it was the real deal. I was going to tell her I was going to skip the morning session and take her to Muir Woods and pop the question. Then I thought she'll never believe me skipping out of the conference so I had to hatch a new plan. Then like a bolt from the blue it hit me…..I put my new plan into action by making a few simple deductions and three phone calls. After the 3rd call I sent a check for $125 and the deal was done.
KAY – So we decided to spend the 1988 (yes, that's SIX years after we met!) 4th of July holiday weekend in Prescott, as we had done for several years. Only this year, his parents wouldn't be there so we invited some friends to join us. In all honesty, I was a little perturbed that a proposal hadn't been forthcoming by this point as I knew part of our 'plan' was to marry in Spring of 1989, and I knew how long planning I needed, and this was cutting into my time. I called my best friend Paige and lamented/whined a little, and she reassured me that I just need to go and have a good time and not worry about anything. We invited one other couple, Bob and Robyn, and bopped around the fun town of Prescott. That night it was decided that we would go to the high school and watch fireworks. Everyone made a big fuss over sitting in the stands, which I thought was ridiculous since there was perfectly good grass right outside the stadium. We were early, and sang patriotic songs with the community band, and at dusk, the fireworks began.
JAY – The money I sent was to the company hired by the city to shoot the fireworks. Everyone at the city and vendor were excited about my idea but I still wasn't sure how it was going to be put into action. About 15 minutes into the show the announcer stops the show and says, "There is someone in the audience who wants to ask Kay Psalidas a very important question."
KAY – I thought I had won something! You know, like they tell you to look at your program and if there's a star on page 43 you win a prize…….
JAY – I got the ring from Bob, my future best man, turned to Kay and asked her to marry me.
KAY – Someone next to me said, 'look at the football field', and in fireworks, a ground display had been lit in 3 foot high letters "Marry me Kay". Most of the crowd then realized it was me, and a girl higher up in the stands yelled down and said 'well, what did she say??'
JAY – I stood up, turned around, thrust my arms in the air and yelled 'YES!".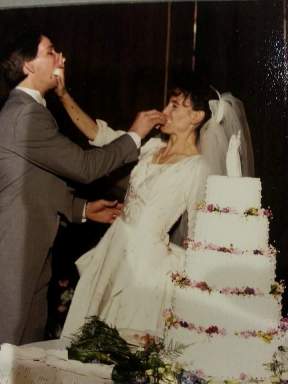 KAY – I was totally stunned!! I really don't remember the rest of the fireworks. We went into the parking lot afterwards and met up with some of Jay's co-workers who knew what was going to happen (they had to sit at the other side of the stadium), Jay's sister Julie and brother-in-law, and his grandma and we drank some champagne, which Julie had chilled ahead of time. We had to drive home that night to work on Tuesday, and being pre-cell phone days, I called Paige the next day to let her know. Turns out she already knew, which is why she told me to 'go have a good time' and 'not worry'.
We just celebrated our 25th Wedding anniversary in March of 2014, we have two children, Emily, age 23, and Grady, age 20. And Paige? She and her husband Scott have a daughter, Sarah, who is our godchild, and the Operations Manager of Creative Hand Cuisine. Small world.
(Sarah here) So– now you know the story of my amazing and theatrical godparents, "Mama Kay" and "Papa Jay"! Sometimes, you just gotta let the guy take control and actually be surprised! It's okay not to rush into an engagement. Let him make it super special for you! That way, you will have your own crazy story to tell, just like Kay and Jay's, to your children and godchildren!