THE ART OF PROPOSING
As many of you know, proposing sure isn't what it used to be. These days, the more wow-factor involved, the better! So, since we here at CHC specialize in the art of creativity, why not feature some amazing creative proposals! 
Our first featured bride to be happens to be our fantastic intern, Rochelle. Her fiancé proposed just 8 days ago, and did so in way that was more intimate for the two of them. So, their story proves creativity is custom made for each couple. We are so excited for Rochelle and Luke and their future adventures together!
Here is Rochelle and Luke's Story:
How We Met
We met in an unlikely place. We met at bar, The Sandbar. Although it may not sound classy it is a love story that led us to an incredible engagement! I saw Luke with his friends at the bar. Luke, may kill me, but he was and is an impressive dancer. Anyway, I saw him and I knew right away that I needed to talk to him. As he passed me to hit the dance floor, I stepped next to him and said "Hi, you're a really good dancer" and that was the moment we met. I gave him my phone number and he gave me his. A couple of weeks went by and I finally heard from him! So, there was a time I thought we'd never speak again but he reached out and we met for drinks on a Wednesday and that Friday we were in San Diego on our first trip for the weekend! I don't know why I jumped in a car with a complete stranger but I never felt that Luke was a stranger. He was someone I was immediately attracted to and always felt safe around. It ended up being a great weekend and we were inseparable after that then we fell in love, adopted a cat named Carlos, and now we're engaged. <3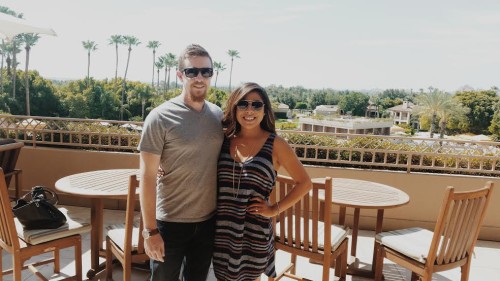 Our Engagement
 Our engagement story is more of the classic one compared to most that happen nowadays. It was private not a lot of frill or worry (on my end anyway). Luke and I have had our fair share of staycations in Phoenix. He travels a lot for work and when time allows us, we like to getaway in the city and discover something new together. Adventures and private getaways are definitely our thing. The day started off like any other day. The only thing different was that where we were staying was a secret. I had no idea we were going to stay at The Phoenician and he did his best to keep it that way. We took a different route to get there (this threw me off completely) and when we finally arrived he told me to guess where we were and as soon as we arrived I knew! The service was amazing (but that was because everyone knew about our special occasion also, because they are just amazing in general) either way, it was a special kind of service during our trip. As the afternoon turned into evening, he suggested that I get ready for dinner at 7. As I was getting ready, he mentioned he would walk down to Valet to get something he left in the car. All the while, he went to the Orchid Garden Lawn and scoped out the scenery and location of where the proposal was to take place. However, that day was exceedingly hot and he was already nervous so his plans changed. Not that I minded, I was dressed in a long black dress and he was in his best and I certainly didn't want to sweat during our proposal! Instead, as I wrapped up getting ready he asked me to take a peek outside at the wildlife that was below our balcony (I'm a big animal lover so of course, I went over and looked) not really thinking anything of it, I thought I may have missed what he was seeing and to my surprise there he was on one knee when I turned around. There were SO many emotions that ran through my mind! One was disbelief but the other was just pure happiness. We have been dating for almost three years and Luke puts plenty of thought into anything and everything he does. He likes to take his time and really narrow his options to make sure he is doing the right thing. The ring was designed by him and carefully thought through as well as our stay and proposal at The Phoenician. Following the engagement, he told me about how he meticulously chose every detail of our day weeks prior to it actually happening. Our proposal was just like him: immensely thoughtful, very personal, and completely memorable. I can't wait to be Mrs. McPhee! 🙂
Our Advice for Other Proposals
Luke's only advice for guys is to plan something special and make it unique. One of the reasons we went to The Phoenician was because I mentioned once that I would love to stay there. Also, we followed our engagement with dinner at The Capital Grille. The restaurant has been a place I have been wanting to dine at with him for awhile as well. So, he suggests, when you decide to do it remember the things she says and that will work in your favor! So girls, I suggest dropping your hints for that ideal engagement. 😉
Our Wedding Plans
We haven't put much thought into in an actual date yet! We were engaged then the next day he left out of town for work so, right now we are just enjoying being engaged and getting used to calling each other "fiance." I'm sure in the next couple of months we will have a date set but being engaged is absolutely blissful right now!