With the spring season coming up why not throw a brunch party to celebrate the warmer weather? When throwing a brunch party there are so many options for food and desserts, your guests wont know what to try first. Since there are so many choices we have narrowed down it down to a few of our favorites!
Mimosa Bar
Let's be honest, a brunch party isn't complete without a mimosa bar. All you need is champagne flutes, and your choice of juice to pair with a crisp champagne. Here are just a few fun selections of juice you may like:
-Classic Orange Juice
-Pineapple Juice
-Cranberry Juice
-Grapefruit Juice
-Pomegranate Juice
-Blood Orange Juice
-Mango Juice
Garnish each with your choice of fruit or drop your favorite berry in the bottom for a cool fizzy look. Here are some garnish options:
-Raspberries
-Blueberries
-Blackberries
-Strawberries
-Pineapples
-Pomegranate Seeds
-Mango Slices
-Watermelon
-Kiwi
-Peach Slices
We hope you enjoy these fruity mimosas as much as we do!

Waffle Bar

Guests love a buffet style option to customize as their own. With a waffle bar you can cook the waffles before hand and have all the toppings at a self serve station, which makes hosting the brunch much easier on you. Here are some items you'll need to make this waffle bar a hit!
-Fresh Baked Waffles (regular and gluten-free)
-Toppings (butter, chocolate chips, powdered sugar, whipped cream, peanuts, multi-colored sprinkles, chocolate sprinkles, syrups- maple, strawberry, blueberry, peanut butter, chocolate)
-Assorted Fruit topping (strawberries, raspberries, blueberries, blackberries, bananas, cherries
Protein Station
What's breakfast without eggs and bacon? You can easily whip up some eggs and bacon before your guests arrive and leave as at a self serve station along with potatoes, various whole fruits, sausage, mini donuts, mini cinnamon rolls, oatmeal, croissants, toast and jams.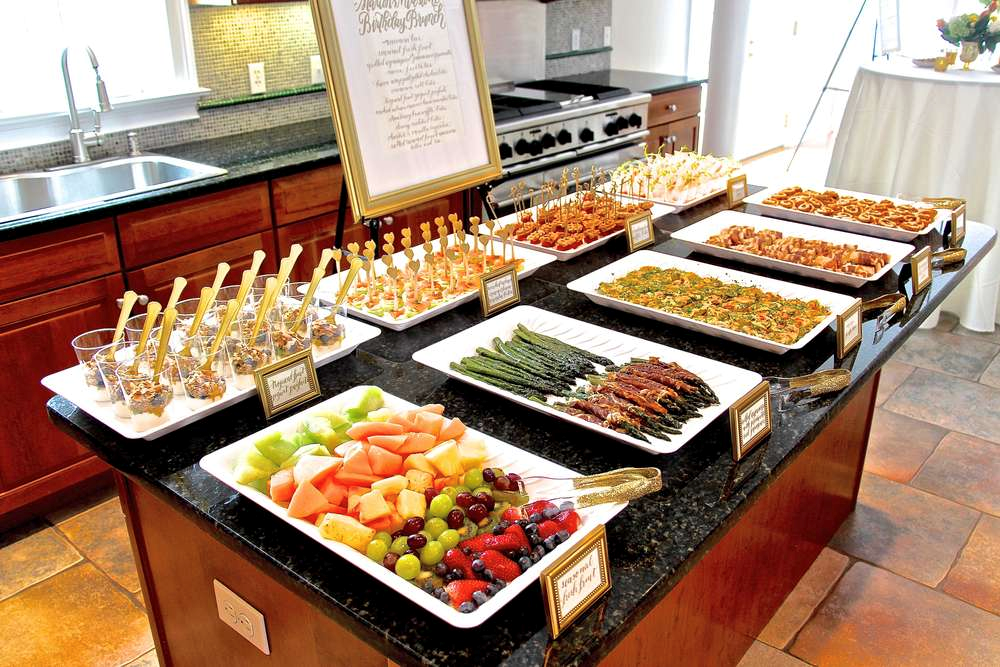 Unique Extras
If you're looking for a little something extra to wow your guests here are some unique single serving ideas:
-Bacon Wrapped Asparagus:: Wrap savory asparagus in apple wood smoked bacon and grill to perfection
-Smoked Salmon and Cream Cheese Cucumber Bites:: Just spread a rosemary cream cheese on a sliced cucumber topped with a small piece of salmon, skewered or un-skewered
-Mini Pancake Skewers:: Either hand bake or buy mini pancakes stack them in three or fours and top with your choice of fruit and skewer them together